PacMad
1.1
The old classic revisited by int13!
Last update
20 Mar. 2006
Licence
Free to try |

$7.95
OS Support
Mobile
Downloads
Total: 195 | Last week: 0
Ranking
#296 in Games
Publisher
Int13 Production
PacMad Publisher's Description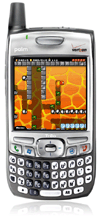 New! V1.1 square screen compatible
If you have a Palm Treo 700w or an HP iPaq hw6515,
you don't need to download a specific version of our Deluxe Arcade Pack for Windows Mobile Pocket PC.
PacMad by int13 production

PacMad is a remake of the only classic arcade game starring a yellow blob with a mouth which has to roam around a maze swallowing little pills.

Eat as much as you can and try to out-run the ghosts.

This game takes the genre to a whole new level of professionalism - 50 levels included spread over five worlds.

Superb scrolling playing field with super slick graphics and paclike munching effects - this game is on steroids!

Crack the game and the built-in level editor is unlocked so you can make your worlds!

Screenshots






Features



Instant-play type of game, perfect for mobile devices

Bright and colorful graphics enhanced with particles and many realtime eye candy effects

Smooth gameplay, with intuitive stylus or keypad controls

Optimized 2D engine providing high refresh rate on all devices (60FPS on most devices)
50 Increasing difficulty levels
5 worlds (Arcade, Garden, Stone, Frozen and Candy)
Small footprint (less than 700K of storage)
Advanced scoring system
Clean interface and lot of configurable options to set up the game exactly to your tastes
3 difficulty levels
Built-in WYSIWYG level editor to create your own levels and share them with friends








Other products :



More infos at : http://int13.net
Look for Similar Items by Category
Feedback